What is the meaning of Quora?
Quora is a social question-and-answer based site where anyone can ask and answer questions, edit questions, and comment on answers publicly. Founded in 2010, this site gets a lot of traffic—300 million users a month in 2020 to be exact.
How can I use it for marketing?
That large amount of traffic and the fact that Quora is search engine friendly is why Quora can be a very valuable marketing channel. Think of it this way: Google is in the business of showing web pages that answer search queries. Quora has the responsibility of answering questions. It makes sense that the popularity of Quora in Google Search Engine Results Pages (SERPs) is so high.
[Stat: Quora has 300+ million users a month.]
That shows Google that he is very fond of Quora. Quora is ranked #383 on the world internet engagement scale. (This rank is calculated using a combination of average daily visitors to and pageviews on this site over the past three months.) Because of that, Quora is only becoming more popular.
via Alexa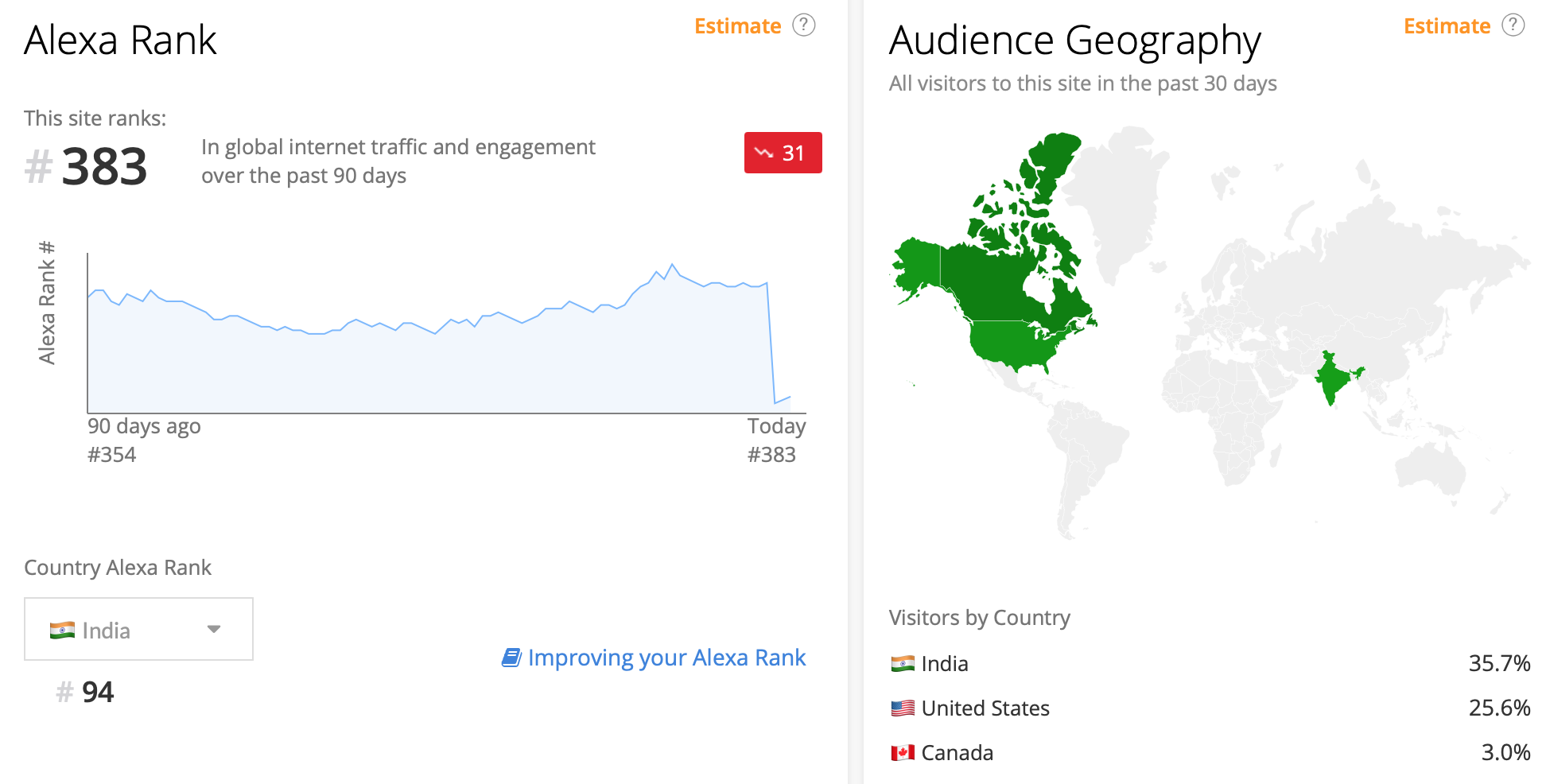 On this page we are going to take a look at some impressive stats.
Quora receives an estimated 90 million visits from search a month: It also ranks for about 65 million keywords, and an estimated 77% of users come from search engines. You should answer questions that are very popular on Google in your niche, in order to drive traffic to your website.
Users spend on average 4 minutes and 10 seconds on Quora: That's impressive. While a little over four minutes might not sound like a lot, technology has shortened our attention spans, with most people spending a mere 15 seconds on a website.

Quora users are 37% more likely to be in a management position: According to a 2018 study by Nielsen, Quora users are 37% more likely to be in management than the general adult population. That means that you are able to get in front of the people who are really deciding things.
[ Read: The B2B Marketing Guide on Quora]
Is it a good channel for me to market my business?
So now that you know what a powerhouse Quora can be as a marketing channel, how do you know if it's a good channel for your business?
Quora is a great platform for b2b startups and businesses, but it can also be leveraged for anyone, including b2c startups. That's because anyone on the site is allowed to:
Building expertise.
Establish authorities.
Gain exposure for yourself.
Create quality content and valuable backlinks for your site!
Ask specific questions.
Search for and explore various types of topics and questions that are relevant to your industry.
Learn from other people.
You will get lots of great content ideas.
Plus, more!
I'll go into each of those areas a little more in Part 1.
Part 1: Why should I sell something on Quora?
That is the biggest advantage that we have seen from doing marketing on Quora.
1. It is a great form of content marketing.
Contributing to Quora is a very effective form of content marketing, and it gives tremendous value over time. That's because the content that you contribute to Quora is evergreen. So it remains relevant months and years after that.
You can verify this by comparing Quora results with Google searches and topic pages in Quora. In many cases, answers to your questions on the site that are old (or, not so old) are returned. And the answers are still relevant.
2. You will be able to have consistent traffic throughout the year.
As you use Quora, you also have the opportunity to offer real value to your audience over time, and you can use it to drive consistent traffic to your website.
So, not only can you include a link to your site in your bio (more on that later), but also, you can also include links to relevant blog posts, services and/or products on your site directly in your answers. Just make sure that you never come off as spammy.
3. The result is that brands are better known and have a good reputation.
By becoming an authoritative source of information on Quora, you can establish industry authority, social influence, and ultimately, brand awareness.
You should display that you have excellent knowledge of your industry and your niche by answering the questions honestly and in-depth. When you consistently act as a reliable source of information for those niches and spaces, you may become the person who is known to be the best expert in those niches and spaces.
4. It ends with you finding a serp.
As we mentioned earlier, one of the biggest perks of all is that if you do Quora marketing right, you can end up in numerous search engine results pages for queries about your industry.
The more frequently you make your answers evergreen, and the more often you edit and update them, the more likely it is that Google and other search engines will be happy to show these answers in search results.
Part 2: Is My Quora Profile Ready?
So you are planning to start marketing your business on Quora, but where do you start?
First, make sure that your Quora profile is ready for people to use.
1. Tell us about your profile.
Do you really think you can start your Quora journey on the right foot? Start by uploading your profile photo, along with a tagline/headline descriptor, and writing a short bio that describes your industry expertise. Don't forget to include a link to your website in your bio!
Add your own credentials to prove that your answers and other content are valid. You can choose from education, employment, location, space, topic, and language to start learning. Incorporate your industry, and put it in either space or in both.

2. Answer these non-promotional questions.
Our ultimate goal is to get users to visit your site and buy products and services, so it's important that you don't come across as spammy. Answer non-promotional questions. Tell them about a city that you lived in or something that interests you.
By answering these questions, you will be able to show that you are a more balanced Quora user. You are not just interested in answering questions that provide you with opportunities for self promotion.
3. Does it matter that accounts are written in a historical way?
Answering a mixture of questions related to your industry and questions that are not related will help you build up a reputation for being more trustworthy.
That person will think, 'whoa, this guy's a founder of a fintech startup. He's also really into Bitcoin, marvel, and 18th century literature. He is an interesting person, so I will follow him. The more people follow you and upvote your answers, no matter what topic or space you are in, the more reliable your profile will be.
Partie 3: How can I market my startup on Quora?
So now that you have set up your Quora account and started to engage and interact with the community, how can you leverage it to benefit your Quora marketing strategy?
There are many different ways to accomplish that, but our experience is that two are the most successful: 1. The other two are direct-to-brand, and 2. Using Quora as a part of your overall content strategy.
If you are not sure how to do Quora marketing properly, leave it to our Quora marketing experts to help you market your startup.
So, let's dive into them.
Then, there is Method 1: Direct-to-Brand.
Start by finding Quora answers that are relevant to your industry. You can begin your search by asking yourself, "What questions would my customers ask?"?
When you've identified questions that are relevant to your industry, make a google sheet or excel spreadsheet and list those questions there. Add in fields the number of views and impressions that each question has received, and how many answers there are currently. Using this information, you will be able to prioritize questions based on the type of question you choose and the difficulty of the question.
In fact, if you really want to go above and beyond that, you can also look at the answers to each question: how many words do they have? How long does your answer need to be in order for it to be truly valuable?
Before you begin to write your responses to each question, make sure to include a brief introduction, a few pictures, and an explanation of what your authority is. Then, dive into your detailed, valuable answer. When it comes time to publish some answers, do it from an account that is already established on Quora.
Rand Fishkin plugs his then-company Moz in his Quora answer.
So, Method 2: Use Quora to help with your content strategy.
Another way that you can use Quora to promote your own content is to do that (not in a spammy way, of course).
Before you publish every blog post, research the questions that your post answers. If you are able to answer the question, make sure to use the relevant information in your post and link back to the original content on your website to get more information.
Neil Patel provides additional information via links to his site directly in his Quora answer.
Marketing through topics vs. Spaces
What is the difference between marketing in Quora topics and space?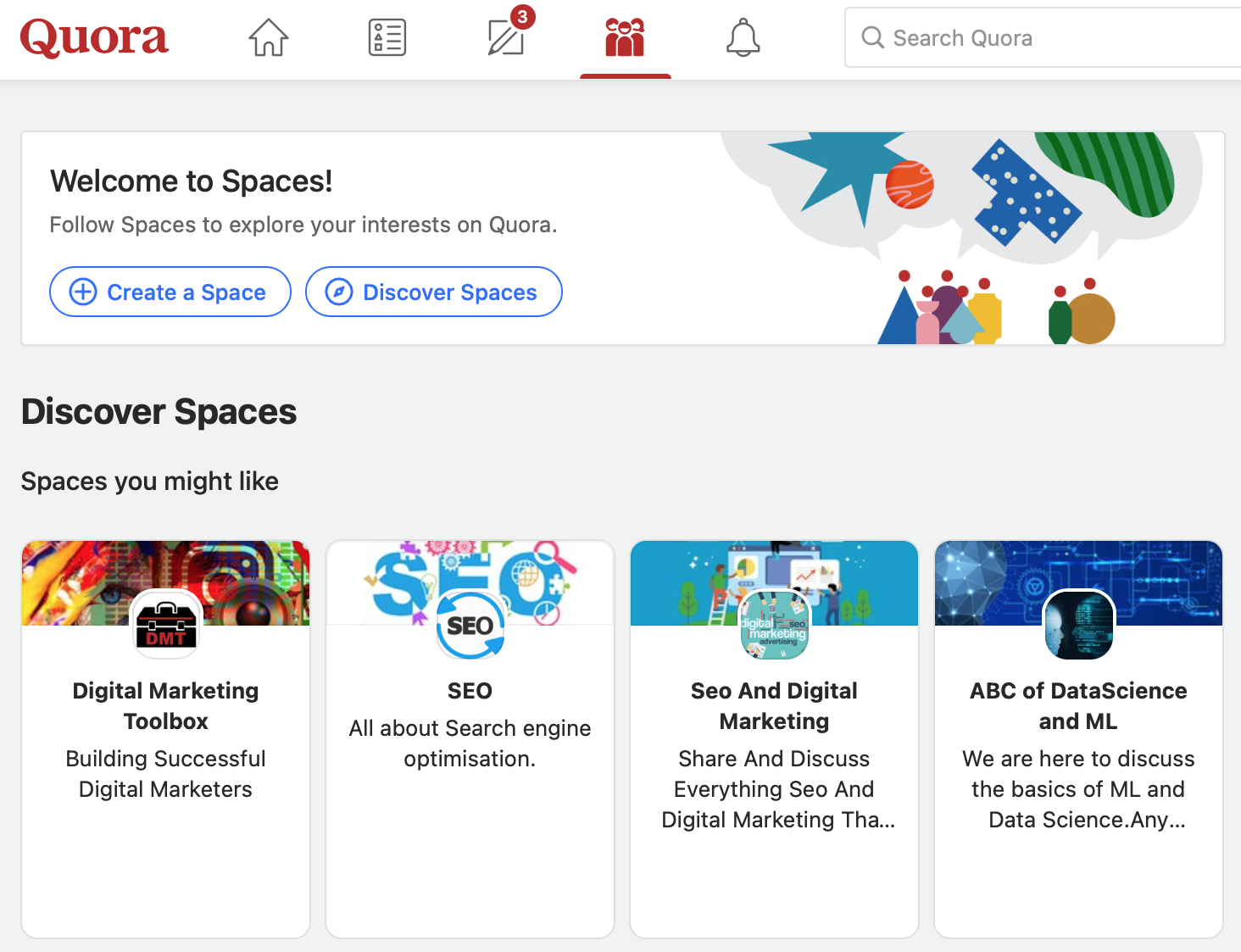 Whereas Topics are a round up of questions and answers on a more general, broadly-defined area, Spaces are—according to Quora Product Designer Abhinav Sharma—"a place for people with shared goals, interests, values and clear norms to share content, and the norms are defined by those people." Spaces are like facebook groups or linkedin groups.
When you market through topics, you'll be responding to the general population of Quora. When you market a space, you'll be answering queries from a specific community.
It is always a good idea to first engage with the community. That is, comment, share useful links, upvote, and provide relevant answers before doing any type of self promotion or even linking to your site.
Part 4: Quora is the place to advertise, so should I use it?
Quora isn't only great for generating organic traffic to your startup's website, it can also be a great place to invest your advertising dollars.
That's because Quora for Business allows you the flexibility to:
Choose the objectives (conversions, traffic, awareness, app installs, and lead generation).
This is the budget that you should set, the audience that you should select, and the bids that you should submit.
Create a short ad and put it on a landing page.
Add to your payment details.
Start your campaign.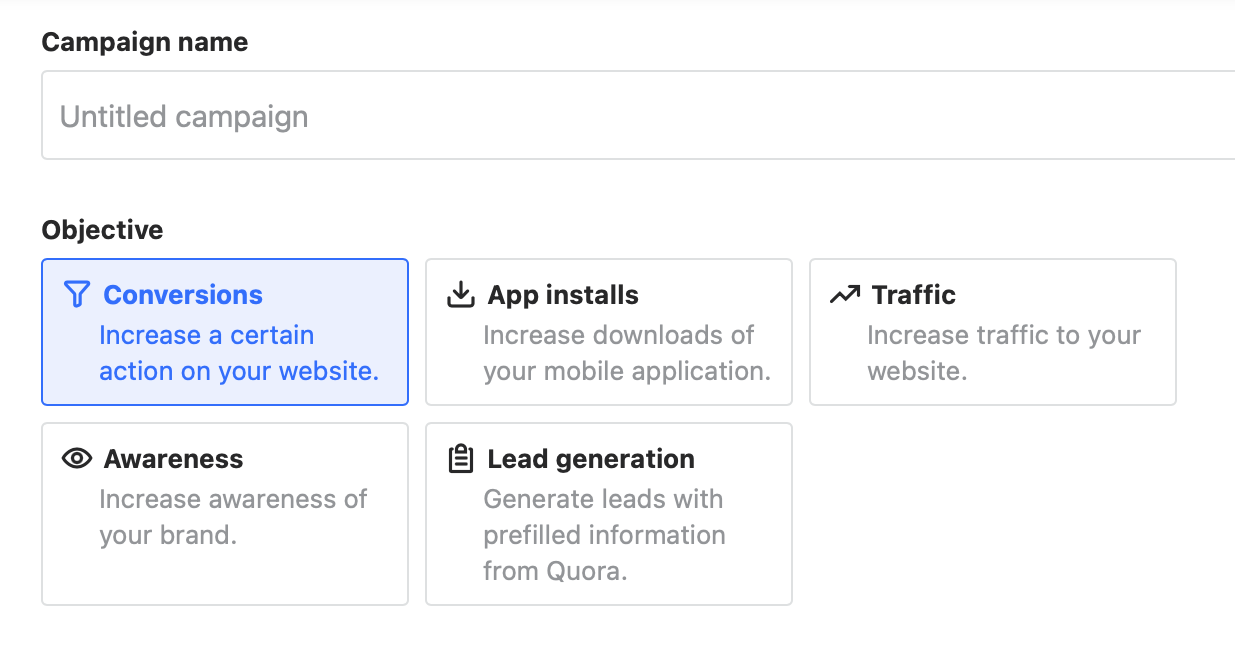 All of this can be done in just a few minutes.
So why should I invest in paid advertising on Quora? Because, according to Siteefy:
In 2018, Quora generated $8 million in revenue with 690 million visitors.
On Quora, advertisements get four times as many conversions as on other platforms.
The conversion rates (CTR) and the cost per click (CPC) on Quora are significantly higher than on other platforms. In a typical case, if you spend $1000 on ads on Quora, you will get 0.91% CTR and a CPC of $0.26.
In 2020, there will be 27% more marketers who invest in Quora Ads.
Quora has a low barrier to enter. The minimum daily budget for Quora is set at $5. At this time, you can switch up ads to include:
Target people based on their location, interests, behavior, what they are reading, etc.
Ensure that you are optimizing for clicks, conversions, or impressions.
Choose between promoted answers, questions targeting and questions retargeting.
All of that, and all of that without breaking the bank.
Part 5: What Other Things Should I Keep in Mind?
Tell me stories.
Do not be afraid to tell your story. Some of the most popular answers on Quora are long explanations of how one person came to give you the answers that you are now getting on the site.
This means that you are not just a face for businesses or spam bots. It also shows that you and all the other content you contribute to the Web are credible and relatable.
Use Other Languages to Learn More About Us!
If you are lucky enough to speak multiple languages, or if your customers speak multiple languages, try to translate your answers into the other languages that they are dealing with. Quora is rapidly expanding into other languages. You can help improve their experience and reach new audiences by:
By repurposing translated content from your own site and posting it to Quora, you are allowing the audience to participate.
Is it possible to translate your own Quora Answers into another language?
[Read: Quora is now available in 24 Languages! I learned this from the Quora blog.
Conclusion
Quora is a great tool to help you.
Reach out to more people.
Learn more about your audience.
Conduct market research and find out what the people are thinking.
Learn directly from your customers.
You should have a bold marketing strategy.
Increase lead generation and conversions.
Plus, more!
There is so much potential on Quora, and so low a barrier to entry, that it's well worth adding to your existing startup marketing strategy. By doing that, you will start seeing results, and you will also increase brand awareness on the web.
Is it possible that you are not ready to start marketing with Quora by yourself? We are able to help you. So, call us and find out how we can help you. A free consultation with me is always available.