How Can Protect My WP Help You Secure Your Website?
Protect My WP is a trusted security plugin that helps you prevent common hacker bots attacks on your WordPress site. The plugin adds filters and security layers to prevent Script and SQL Injection, Brute Force attacks, XML-RPC attacks, and more.
If your site is on WordPress, it may already be exposed to hacker bots trying to compromise your vulnerable data. ("Maybe saving all my passwords in that post-draft wasn't my best idea.")
Take preventive measures against bot attacks using Protect My WP Plugin – Did you know that?- Almost 90,000 attacks per minute on WordPress websites.- In 2021, 42% of small businesses were targeted by cybercriminals.- 83% of all CMS-based websites being hacked are built on WordPress.- On average, 30,000 new websites are hacked every day.
The easiest way to protect your site against these attacks is to hide the vulnerable paths from hacker bots. But you'll need more than ordinary camouflage.
Introducing a souped-up WordPress plugin that monitors and maximizes your site's security.
"Protect My WP" is a highly customizable WordPress plugin that makes it easy to upgrade your site's security in minutes and better defend it.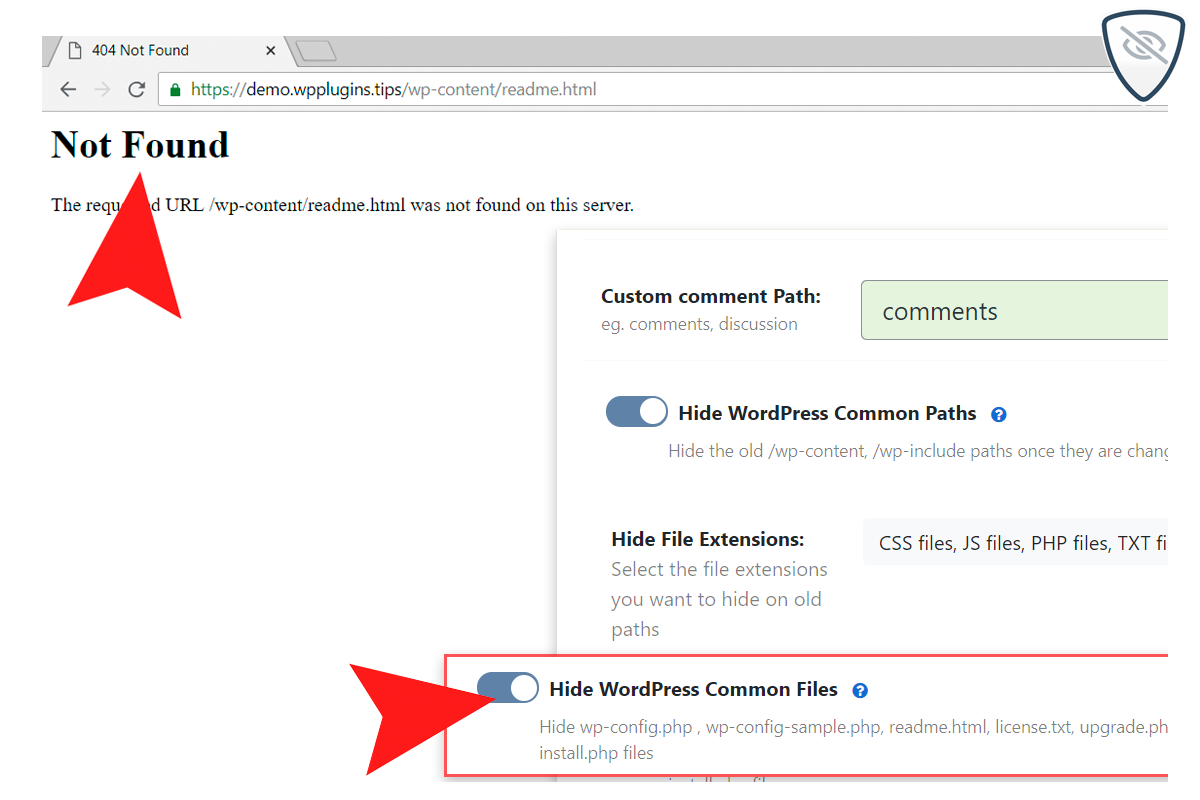 Here are some of the main Features:
#Easy To Use
You can install and set up the plugin in less than 5 minutes. You don't have to be an expert to make it work. No programming knowledge required.
#Faster Than Others​
Protect My WP is a speed-optimized plugin. The average loading time is 0.03s, which is faster than 90% of WordPress plugins. This will help improve your site's Search Engine ranking.
#WordPress Multisite
Protect My WP works with WP Multisite on subdirectories and subdomains.
#Compatible with Other Plugins​
Protect My WP was tested with over 1,000 other themes and plugins. Works with the most popular Cache Plugins, Security Plugins, CDN Plugins, and WordPress Themes.
#Professional, Dedicated Support
We offer professional WordPress support that includes: bugs, site fixes, payment processing issues, website speed inquiries, and much more.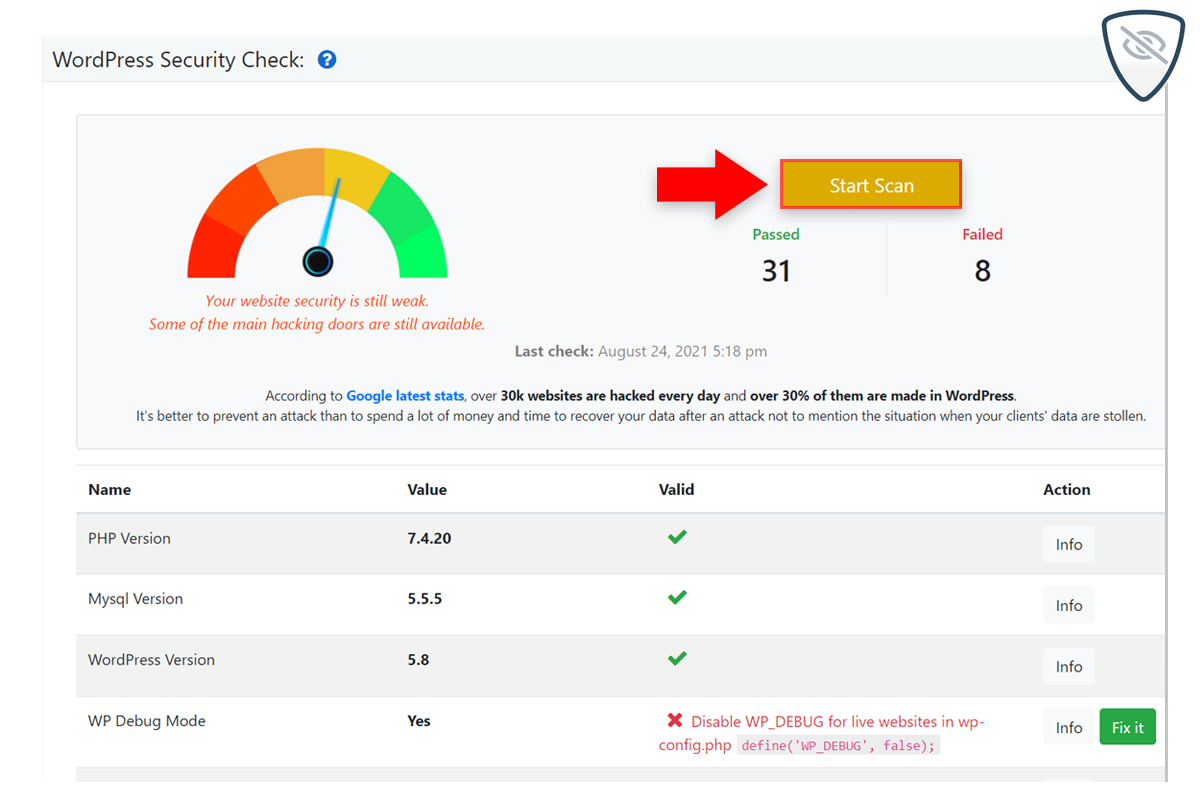 With Protect my WP, you can customize and hide commonly-attacked WordPress paths and files.
You'll stop hacker bots in their tracks and keep them from compromising data like plugins, themes, and WordPress core files.
Protect your site against common attacks, such as script and SQL injection and brute-force, by camouflaging those vulnerabilities without physically changing any file or directory.
Customize and hide commonly attacked WordPress paths, so your site goes undetected by any bad bots!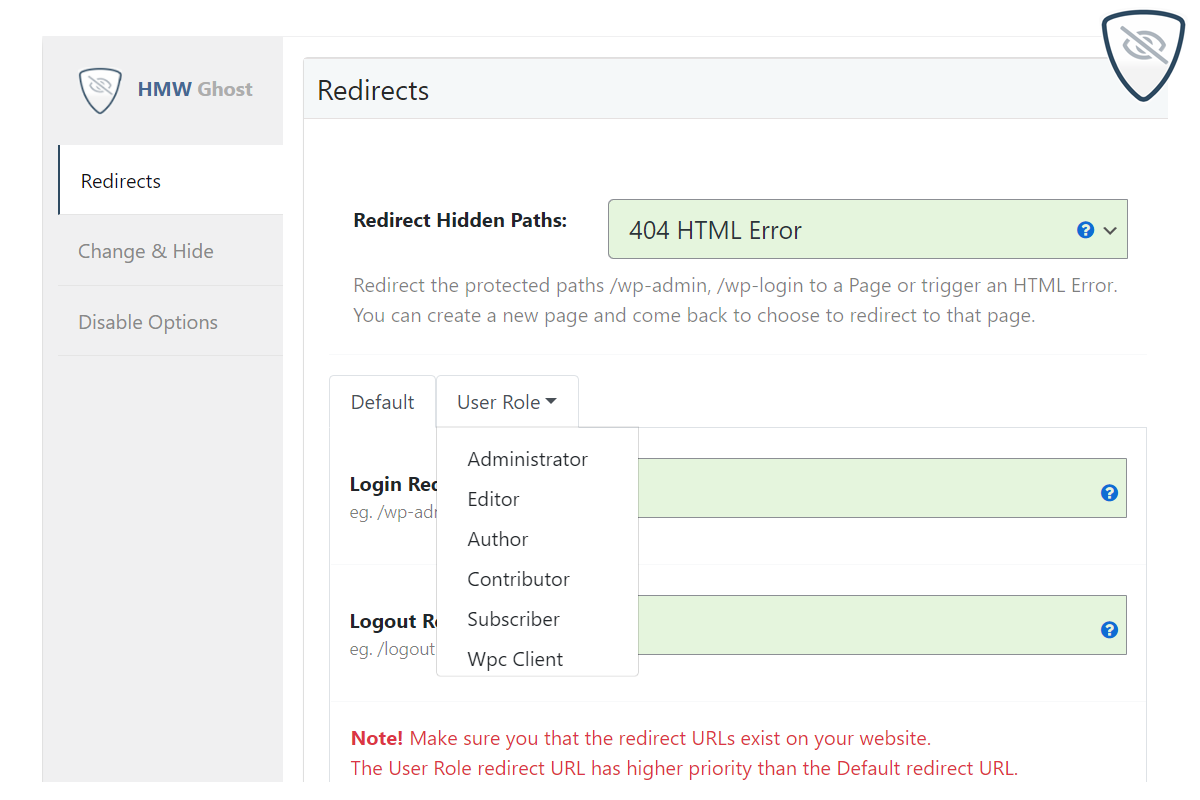 Most sites get compromised because of security vulnerabilities that could have easily been prevented by taking the right measures at the right time.
Protect my WP scans your entire site to assess its current security level and uncover urgent security threats that leave your site exposed to different types of attacks.
All vulnerabilities will be highlighted in a dedicated report, and you'll get clear guidance on how you can correct each issue.
In many cases, you'll be able to fix issues with a single click right then and there!
Uncover urgent security vulnerabilities and get clear guidance on how to fix them.
Protect my WP provides multiple options to customize security features based on your needs.
Plus, you'll get brute force protection with limited login attempts, reCAPTCHA protection, IP address blacklisting, and a customized lockout message and duration.
Set it up your way. Create custom login and logout redirects based on specified user roles.
Protect my WP always keeps a close eye on your site's security, so you know who does what. You'll see every action users take when logged in to your site for the last 30 days.
Create instant email alerts to get notified of security-related events, like break-in attempts and unauthorized user actions such as deleting a post or plugin.
Know who's trying to hack you with visibility into all brute-force attacks for the last 30 days, along with the full details of the attacker (e.g., IP, username, and date).
With all this data at your fingertips, you can instantly detect and defuse security vulnerabilities by taking timely preventive actions.
Spot suspicious behaviour early on by keeping track of every action users take on your site.
We're not quite in Sky net territory (yet), but there are still bad bots out there that want access to your vulnerable data.
With Protect my WP, you'll get all the enhanced security features you need to go completely undetected by hacker bots.
Make sure your WordPress site stays yours.
We can install the plugin and set it up for you and set the notifications so that you get noticed when someone is trying to breach into your website, we will issue a full refund if you get hacked when buying the yearly plan.
This is our promise to you and a lifetime guarantee.